Bond Description
Required by the U.S. Department of Labor on all 401K or pension plans, this dishonesty bond covers theft of plan assets by the plan sponsors, trustees, or administrators.

How to Apply for Bond
 
Complete the secure online ERISA Bond / ERISA Pension Bond Application and click "submit". The Application will be sent directly to bond underwriter for review (usually takes less than 24 hours, but some delays may occur.) If approved you will receive a bill directly from the bonding company. Our agency will forward the bond.

Open and Complete Form Here
Click on the icon below to access the ERISA Pension Bond form: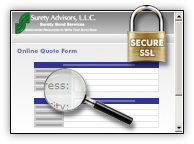 Form Name:   
Form Type:   
Security:   
ERISA Pension Bond Applicant Information
Online Electronic Form
Yes. GeoTrust SSL Certificate